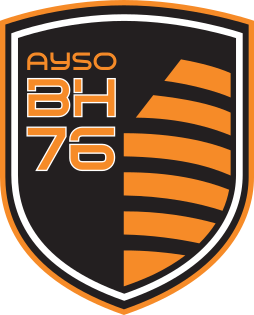 The 25th Annual Sportsmanship Cup will take place on Saturday and Sunday, December 16th and 17th, 2023
---
DECEMBER 4, 2023 UPDATE
There is still space available in all divisions (Boys and Girls 10U, 12U and 14U). However, we will likely close registration on Monday December 4.
After Monday December 4, please email cup@ayso76.org to ask if space is available.
Extra Teams are welcome to register. We create flights of teams to balance competition.
Referee submissions are due no later than Thursday December 7.
---
INTRODUCTION
Come to a different kind of tournament - a tournament in which the prize is for good sportsmanship. Our tournament is timed to take place before the competitive tournament season has begun. You'll have the chance to have four close to full-length practice games, for fun, to experiment with line-ups, with no pressure to win every game and with every team having a chance to win regardless of goals scored or allowed. We do everything to provide balanced competition. We know everyone will play hard but we have done this since 1997 and the players loved playing (and the referees loved refereeing) without the pressure. Extra, All Star, tournament, select and regular season teams are all eligible. So join us. Information on how to register on-line is at the end of the invitation and at the end of this page.
---
WHEN
Saturday and Sunday December 16th and 17th, 2023.
---
WHERE
Beverly Hills High School, Roxbury Park, Beverly Vista School, Horace Mann School, La Cienega Park, La Cienega Fenton Field, Kenneth Hahn Fields. Other fields may be added based on numbers of teams registering for the Cup.
---
WHO
AYSO Boys and Girls Divisions 14U, 12U and 10U teams. 11v11 in 14U, 9v9 in 12U; 7v7 in 10U. We will create separate Extra Flights should we get enough teams. We will in any event do everything we can to create team balance.
---
ELIGIBILITY
AYSO boys and girls teams in age divisions: 14U (11v11) 15 players max. 12U (9v9) 12 players max. and 10U (7v7) 10 players max. All players must be registered and have played in the 2023 Fall AYSO primary season as a core or Extra team. Guest players will be allowed (3 maximum per team). Co-ed teams will be accepted in boys' divisions only. Regional Commissioners must certify rosters and ages of all participating players.
---
GAME FORMAT
Every team is guaranteed 4 games. Games lengths are as follows:
10U: 25 minute halves
12U: 25 minute halves
14U: 30 minute halves
Games end must end on time. No added time and no overtime's.
---
FEES/USE OF PROCEEDS
Submit payment for $1,000 (14U), $950 (12U) or $900 (10U). Region checks or Region Divvy credit card required - personal checks and personal credit cards not accepted. This covers:
TOURNAMENT FEE of $600 (14U), $550 (12U) $500 (10U)
REFEREE DEPOSIT $ 400
Region checks should be made payable to: "AYSO Region 76" and should be mailed to:


AYSO Region 76




Attn: Sportsmanship Cup




PO Box 1761




Beverly Hills, CA 90213.

Region Divvy credit card payments may be used online when you register.
Fees paid by check must be sent promptly following on-line registration. Your payment will be deposited unless your team is rejected for participation in the tournament. Any uncashed check will be returned to the address on the check, unless the check bears the address of the National headquarters, in which case you may specify the address of the region as posted on its website. If for any reason the tournament is completely rained out or cannot be played on December 16th and 17th, you are committed to playing on our rainout dates, January 6th and 7th, 2024. If our rainout dates are also completely rained out or games cannot be played on those dates, a full refund will be made. No refund for cancellation by a team unless a replacement team is found or the election to withdraw notified not later than 21 days before tournament. See our detailed Refund Policy for details. Please email our Tournament Director if the rainout dates conflict with your Area or Section all star or extra playoffs.
We must emphasize that no registration will be considered complete unless we have received payment. The deadline for receiving the payment will be Tuesday December 5, 2023, as we will begin scheduling the tournament soon thereafter and a team not fully paid up by then will not be scheduled. Contact us if you are having difficulty meeting this deadline but unless we are 100% certain that we will receive payment, your team will lose priority and will have to be waitlisted.
Registrations will be accepted on a first-come, first-serve basis. Since we require you to register online, you will have a priority date based on your date of online registration provided that payment is received within 7 days or December 5th, 2023, whichever comes first.
Proceeds will be used for Region 76 field improvements and to support All Star and Tournament teams, especially players needing help to participate in traveling teams. In addition, we may use the proceeds to support inner city AYSO programs.
---
REFEREES
Each team participating in the tournament must provide at least one (1) team of three (3) qualified referees. Referee teams from outside of Region 76 must be submitted online NO LATER THAN TUESDAY, DECEMBER 5th to be considered for a full refund. The referee deposit will be completely refunded within two to three weeks after end of tournament if the referee team officiates three (3) games. Partial refunds discretionary. Please be patient as it can be difficult to get all this done over the Winter break. More details (and information specific to Region 76 teams) can be found on our Refereeing Info Page.
---
ROSTERS
No fee for dropping a player from your roster or changing your roster. Signed must be submitted by Sunday December 10th, 2023, either by mail to PO Box 1761, Beverly Hills, CA 90213 or by scan and email to cup@ayso76.org. You may make changes after that date but only if the revised roster is submitted with a Regional Commissioner signature.
LINE-UP CARDS
Please bring four completed line-up cards to the field where you first check in.
---
AWARDS
All the players will receive a tournament pin and all coaches will receive a T-shirt (limit 2 per team). This is a Sportsmanship tournament. The team with the most sportsmanship points in each division will be awarded medals. Come and play to have fun, tune up and show what good sportsmanship is all about.
---
SCHEDULE
Tournament times are generally 8 am to 5 pm, depending on various factors. Final schedules will be posted HERE - they will not be mailed. The goal is to post the game schedules by 12/11 (Monday), with referee schedules to follow over the course of the next two days.
---
REGISTRATION
If you are already a registered user of the Region 76 site, please log in and you can click on the link to Tournament Registration on the left-hand menu.
If you are NOT already a registered user, here is where you can register. You will need your AYSO ID handy to get started.
---