Become a Referee
In order to be considered as a referee, you need to visit AYSO's national online registration program, www.eAYSO.org, and "pre-register" as a volunteer. DO NOT USE eAYSO TO REGISTER A PLAYER. The eAYSO pre-registration form for volunteers is required by child protection policies implemented by AYSO and many other youth sports organizations.
You should also log into your profile on InLeague and click on "Player and Volunteer Registration". Click on the "Review" button next to your name and update your volunteer preferences.
---
Useful Links and Resources
We're all about keeping our games Safe, Fun and Fair for the kids.
We need you to help out by becoming a volunteer referee! If you love kids, have a sense of humor, think being a positive role model is important and can walk around the block without being winded, you have what it takes.
We provide training, equipment, and all the camaraderie you can stand. It's great exercise and the kids really appreciate it. We have men and women, youths and adults all taking part in the fun. We'd love to have you join us!
---
Youth Referee Program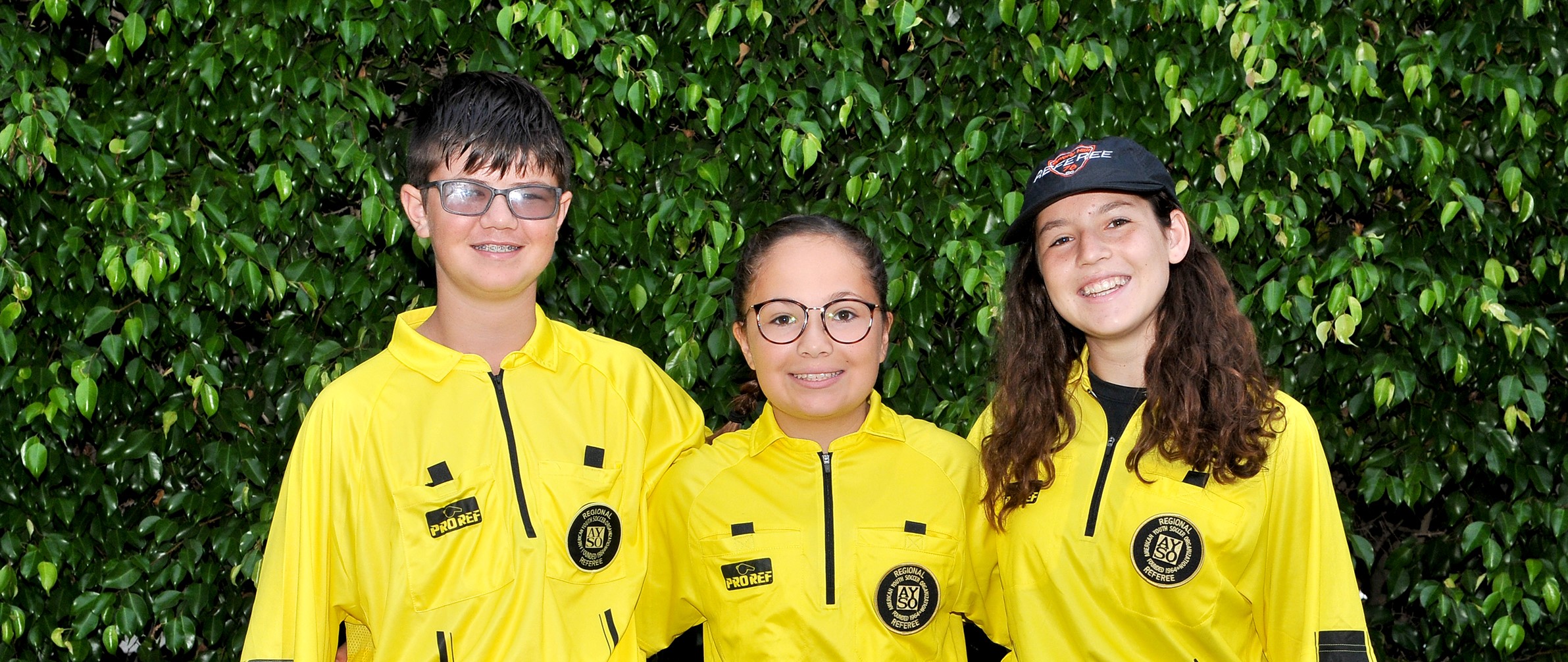 The Youth Referee program exists to answer the growing demand for referees in the 8U and 10U Divisions and to provide a leadership opportunity for young people in our community.
Here's how it works: Girls and boys ages 12-17 take the required referee training courses which certify them to officiate 8U through 10U games. These Youth Referees meet the same certification requirements as adults do for these Divisions. There will usually be a Youth-focused Referee Training class at the end of the summer so that new Youth Referees can be trained with their peers. Like the adults, they will be provided with all they need to begin refereeing; uniform, whistle etc. at the completion of their training. A mentor accompanies Youth Referees to most games, especially their first few as the Referee - the person in charge of the game. AYSO rules require a Youth Referee must be at least two years older than the Division they are working as a Referee.
The program has multiple benefits:
It inspires younger players, giving them role models to look up to.
Young people participating in the Youth Referee program get a chance to do community service and a unique opportunity for intellectual and emotional growth.
We're always interested in making our program better. Please contact us with any suggestions you have.